Every Startup Should Know These Funding Strategies
Startup funding is the lifeblood of any upwardly mobile company looking to scale in the near future. It's important to not let your startup dream waver. If you adopt the right funding strategies, you will be able to secure the necessary funding to make your dream into a profitable reality in the long run!
The US Bureau of Labour states that roughly 20% of new businesses fail in their first year.
In Nigeria, things don't look any better. The Nigerian economic reality is extremely difficult for every entrepreneur to come to terms with but everyone keeps pushing on.
Sometimes you may have everything figured out but your business can fall prey to one of the most popular culprits of businesses folding up– the lack of positive cash flow. Cash flow problems said to be largely responsible for 82% of small business failures.
When it comes to funding, these tried and tested strategies will help you keep your business afloat and running:
Devise a solid business plan that will help you weather the storms to come
Once the thought of setting up a business comes to your mind as an entrepreneur, you must first lay down the blueprint which is the business plan. This is one well-thought-out document that will help you secure funds. It will also serve as a point of reference while you tap into other funding strategies.
What does the business plan entail?
Your business plan should offer a concise description of your business and what you have set out to achieve. It outlines what the business is, what the business does and should also factor in a market analysis.
The business plan must show the companies Strength, Weakness, Opportunities and Threat analysis (SWOT). In your business plan, you are expected to provide a deep dive into the nature and activities of your competitors and the target market you have carved out for your business. The organizational structure of your company is another piece of information that needs to be featured in your company business plan.
The hierarchical structure of your firm showing clear reporting lines and managers overseeing positions in your organization should be clearly visualized. One key aspect of your business plan is your financial outlook.
Here, you are expected to offer realistic financial projections for the next three to five years that can capture the interest of potential investors. From your financials, investors can tell at what point you are likely to break even and begin turning a profit.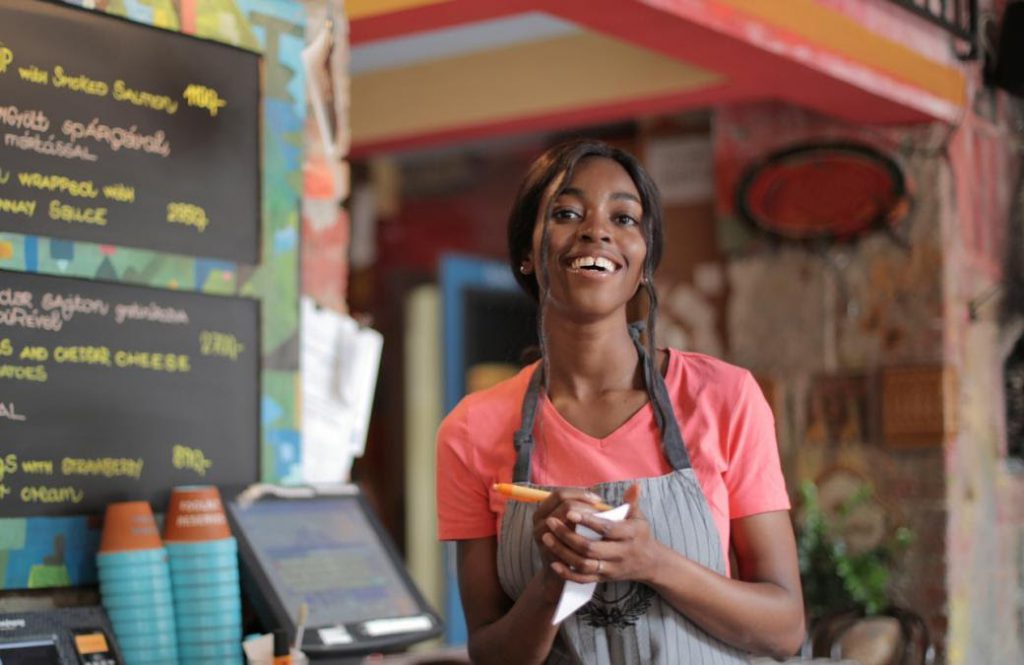 Approach friends and family for business capital
These are the first point of call for most startup founders. These are people you can trust and expect to have you covered in your time of need. They are the ones who have witnessed the birth of your business idea and are interested in helping you see it through.
Approaching these people is a win for you as, in most cases, you don't have to pay an interest especially if the fund is provided by a family member.
What you then have to do on your part as a startup founder is to ensure you work hard at making their investment a fruitful one as going back to them after a catastrophic business venture would prove to be extremely embarrassing.
Apply for a bank loan or use any of the quick credit facilities available online
You have the opportunity of entering into a preferred bank and making a request for a loan facility to help push your business into full gear. Presenting your business plan could also help in generating trust with the bank. If the banks don't work out, you can always try online loan facilities that can offer you loans at a reasonable interest rate.
Partner Up
A partner can be the best course of action for financing your business operations. Combining your own capital (which could be some of the money you may have saved in a Money Market Fund) with that of another party who will serve as a strategic partner will help you pool funds and jumpstart the growth of your business. The key to working with a strategic partner is to ensure that this person is one who you are comfortable sharing profits and liability with. It would also be good if this person is innovative and is one who brings fresh ideas to the table.
Hunt for Angel Investors
Not to be confused with Venture Capitalists, an angel investor (also known as a private investor, seed investor or angel funder) is generally a high net worth individual who provides financial backing for startups in their early stages typically in return for equity ownership. It is also important to note that their funding can also be exchanged for convertible debt. More often than not, these investors tend to be entrepreneurs or former entrepreneurs themselves.
A short meeting over coffee or lunch or dinner with an angel investor may go a long way in bringing them onboard your vision and ideas. Once you have an opportunity to pitch to a potential angel investor, brush up your business plan and articulate it to him or her succinctly. He or she might have a few pointers for you in return on what to do in order to scale faster.
Venture Capitalists
According to Investopedia, a venture capitalist (VC) is a private equity investor that provides capital to companies exhibiting high growth potential in exchange for an equity stake.
Getting a VC onboard means a part of your company will be given away, however, you get to benefit from resources that could be made available because of this partnership.
Getting VC funding is a quick way to scale up operations, but make no mistake, the pressure to generate targeted revenues gets higher at this stage. You must be at the top of your game as you try to keep them satisfied while hitting the numbers given to you to achieve.
Reduce Your OPEX (Operational Costs)
While running a startup, it's easy to get carried away with attempting to make an impression on your clients and stakeholders. However, the most strategic play is to think 'lean and mean'. Scale back on costs that can be done away with and focus on the most important things needed to keep the business running profitably.
For example, you don't need a big fancy office overlooking the seaside. Neither do you need to acquire a 2020 Mercedes Benz to let your high net worth clients know that you also deserve to be in the same rooms as they do. Work tirelessly at reducing costs and making payment arrangements that allow for sufficient cash flow in the business.
Before you commit money into any major acquisition, measure the expense against the expected return on investment. You need to constantly obsess over the big picture. You need to ask yourself, "Will this investment directly influence my company's growth, and is it absolutely required to get to the next stage of growth?
While many will tell you that it is very difficult to run your business profitably from the start, it is not an impossibility. You can build your startup to leverage profits as it grows.
Once you are able to perfect this, any additional capital you receive through startup investment will simply serve as an added bonus
Join an Incubator or Accelerator Programme
One great way of gaining a chance to mingle with other startups is by joining a startup services program like an incubator or accelerator. These platforms will provide you insights on sourcing for funds and may even offer a workspace that greatly reduces operational costs for you. Additionally, some incubators and accelerators can provide you with direct access to strategic capital.
Networking
Your networking skills can land you the business funding your need. Reach out to old colleagues and people within your circle and ask for a referral to someone who's likely to be interested in funding your startup. Word of mouth is only powerful because one person trusts in the other's judgment. Get your fellow entrepreneurs to recommend you for opportunities that are sure to catapult your business to the next level.
In order to ensure that everything is optimal in the race for investor referral, the following pointers should come in handy:
Leverage people you have been able to build a rapport with: It would be best to avoid near strangers when hunting for referrals.
Get your social media presence up to speed: You need to begin to see yourself as a brand and as such, position your social media pages to mirror a professional outlook. Most people attempting to connect with you via referral will most likely check your LinkedIn page to get a sense of what you do and the potential your business has.
Provide contact information: Make it easy for contacts to reach you. Always have your business card on hand to ensure that there is always a means of getting in contact with you.
Participate in contests
If you have a dogged team of professionals who are the best and brightest, why not enter into contests like hackathons that provide an opportunity to win funding to the tune of a certain amount?
This way, your business is given a spotlight to showcase its competitive advantage and through this, you can win over hearts ready to part with their money as an investment in your business.
Conclusion:
Starting a business is going to be a roller coaster experience. Keeping cash flow steady and consistent will be an uphill battle but it is one that can be won.
When profits are stable, it would be wise to invest in assets that would yield considerable returns and propel your company even further. Quantum Zenith Mutual Funds are a great way to put some of that profit to work and generate interest for your business and maintain liquidity for emerging.